IOT-Turning out to be a phase of evolution
By Mayank Bhargava, CIO, DHFL Pramerica Life Insurance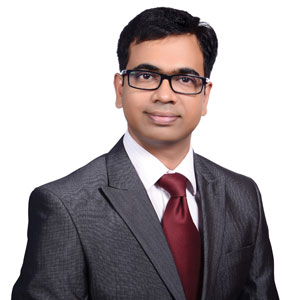 Mayank Bhargava, CIO, DHFL Pramerica Life Insurance
At this point, IoT is growing rapidly, and the number of devices that are deployed for IoT is expected to double up in the upcoming years. Maintenance that will be required for their regular upkeep, keeping them operational at all points of time could be yet another challenge that organizations would be required to deal with. If these devices fail to work accurately, then the data that the organizations will receive will not be accurate and resulting in potential problems for businesses rather than solving them.
Evolution of Data management in upcoming years
A considerable amount of data is going to get generated with the proliferation of IoT, as today already organizations are already dealing with TBs and PBs of data. Even Small and Medium-size Enterprises now have terabytes of data, and they are still counting. These devices, when put to use would be generating a lot of information, creating a lot of traffic at all points of time and this along with management of overall data that is generated, stored, retrieved, and then disposed off safely and securely, is something that would require a deep thinking and strong governance.
Apac will be a driver for global IoT market
APAC has become one of the most rapidly growing marketplaces for IoT as it also houses two of the world's largest economies, China and India with regards to the sheer number of people and this would have a significant play in driving this technology adoption.
I believe APAC has a large and growing market for people with disease management like diabetes, cardiovascular diseases and they are slightly ahead of the curve in adoption of new technologies. Research done by analysts and consulting organizations indicates that people are willing to share information through a device attached to their body by which doctors can monitor them on a real-time basis. When disease management or lifestyle management are driving the growth for health monitoring IoT, it would no longer be a push offering but a pull driver for spurring the next phase of growth. So it could potentially become one of the biggest market for IoT, not just on the manufacturing side or more traditional services industry but also for healthcare and possibly insurance driving this growth.
Innovative strategies Insurance companies are implementing
I think I am going to break this question into three different segments that you would see on the insurance side. The nonlife, i.e, general insurance followed by the health insurance and the last is on the life insurance side.
Many general insurance organizations are already working with a lot of start-ups, for creating eco-systems and offerings which can help in capturing the health/performance data of the insured asset and thereby enabling effective preventive maintenance. These could be installed in the vehicles and can get the information on multiple different parameters to identify what kind of preventive maintenance is required or alerting the nearest service center with details of the damage in case of an accident.

In general, one of the trends supporting the health insurance industry, on the whole, is the higher expected longevity of human life. While people are expected to live longer, they are also expected to live a less healthy life, due to an increase in the pollution levels while battling lifestyle induced problems. This is one of the factors strongly contributing to the growth of the Health Insurance industry. This evolved ecosystem has also led insurance companies to adopt digital technologies in order to provide a better customer experience and address the problems in a proactive manner. With IoT becoming more commonplace and cost-effective it is expected to forge a symbiotic relationship with health insurance eco-system where customers and healthcare providers would be able to have a better view and control on the vital parameters affecting customers health thereby enabling pro-active action.

In the case of Life Insurance customers are required to undergo medical tests which determine and influence their insurance eligibility. Currently, there's not much scope for a policyholder to seek a reduction in premium if she improves her health and hence eligible for better rates or vice versa. With IoT joining this eco-system working as a conduit for getting reliable and regular data about the insured, both the parties of the insurance contract possibly have an opportunity for engaging in dynamic risk-based pricing which could potentially be a win-win for both insurers and insureds. Needless to mention it could be an incentive for people in pursuing even a healthier lifestyle.

For all this to happen there's a need for the larger interplay between the customers', insurer, regulator, and reinsurer which are the four pillars within the entire insurance continuum. The customer is the center and then all of these entities supporting it from the side and creates offerings are beneficial for the customers and insurers.

Opportunities that IoT has brought in for the Insurance companies

Currently, because of the traditional and legacy methods that are being used for underwriting, there is a risk of not producing the accurate results. When somebody is writing a large property risk, the insurer has to ensure the kind of security devices, the mechanism by which one would be able to take care of some of the risks that could potentially hurt the underlying asset. So if you have an IoT system to track those devices in order to identify, respond, and react to that risk in a quicker time frame, I think they will be more than willing to underwrite that risk more liberally compared to what they do right now.

Secondly, in terms of the claim payouts, one of the biggest risks that the insurance companies deal with is with claim documents. The insurers have to check that the information available is authentic and that has it has not been changed through hacking methods. To solve this quandary the insurers should provide customized access to the concerned stakeholders by building a security model that will respond to their needs.

I think the insurance industry has undergone a lot of transformations over a period of time. And thus IOT coupled with a blockchain technology has the capability of making the existing data available in a secure manner. If these technologies are put together and leveraged, I think it genuinely has a potential to revolutionize the insurance industry.

A piece of advice to CIOs

In my views, the CIOs should not just focus on the technology but should partner with business as a close confidant. They should be the enablers for making business processes more efficient, effective, and productive. They need to understand the business better than perhaps the rest of their peers because then only they would be able to identify the right areas where they can go and make a deep, everlasting impact.