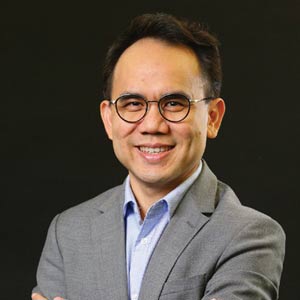 Pavin Vorapruck, CEO
Just a few years ago, when all random projections were made as to how IoT could revolutionize the world in the future, nobody ever thought IoT would become as ubiquitous as it is today. As advancements in technologies and communications took a new leap in recent times, applications of IoT outstretched to a multitude of industries at an unimaginable pace. Companies, institutions, and governments across the globe are ceaselessly trying to come up with novel innovations so that they can explore the uncharted territories of IoT. Leading the game in this innovation race is the Thailand-based Information & Technology company, Things on Net (TON).
Founded in 2019, TON is a leading and trusted IoT solutions provider in Thailand with world-leading communications technology, offering turnkey platforms and solutions ranging from consumer and enterprise to manufacturing and industrial IoT applications. With a service network in over 77 provinces in Thailand, the company's services include consulting, strategic planning, research and development, and designing sensor devices. Moreover, the company also offers IoT-as-a-Service, which allows the customers to free themselves from the burden of CAPEX. TON is the exclusive Sigfox operator in Thailand that delivers dedicated IoT low-power wireless networks or LPWAN for organizations globally in other 72 countries. "We are proud to say that we are the only full stack provider of IoT solutions with state-of-the-art technologies in Thailand," says Pavin Vorapruck, CEO of the company.
With its global strength and technology expertise in a broad range of IoT services, TON has developed various IoT devices to meet diverse consumer needs and has established a benchmark in solutions and consulting in the IoT industry. The company strives to drive the Thai loT market and enhance the development of a robust, inclusive, and sustainable ecosystem for telecom network infrastructure, global network service, research and development of highsecurity devices, and trusted platforms to support diverse industries and businesses in the new normal. Furthermore, in partnership with its business alliance, TON strongly aims to drive and upscale smart industrial specialization in line with the national strategy.
We are proud to say that we are the only full stack provider of IoT solutions with state-of-the-art solutions and services
With its dynamic team of highlyskilled workforce, who are very creative as well as adept at cuttingedge technologies, the company has rolled out a number of innovations in many sectors. These include digital transformers, smart street lights, water quality detection sensors, air quality devices, gas monitoring devices, smart electricity meters, rental car management systems, and other stellar IoT projects. Moreover, from cloud platforms to sensors, the company runs its own network and work with both local and international sensor makers. "We encourage everyone of our team members to create new things and develop new solutions so we can better serve our customers," elaborates the CEO.
What makes TON's products and services very unique from other IoT companies is the way it collaborates with the customers and offers tailored solutions in the exact way the customer has visualized the product. First, the teams ensure they understand the complete requirements of the customer clearly as in whether they would like to improve the revenue, create a new business model, or create a new enduser experience. After listening to the customer carefully, the TON team sends the data to the developer team, who then work in close collaboration with the customer. The technical teams ensure that they communicate clearly with the customer and explain the technical aspects in a simple way as to what is possible with the technology and what's not. "We strive to make the IoT simple for our customers," explains Vorapruck.
As a pioneer and leader in business transformation in Thailand, TON provides cost-efficient IoT solutions to its clients that are designed to optimize operational processes and enhance customer experience. Alongside, to ensure the quality of the products and solutions it builds, the company conducts Proof of Concept (POC) and Proof of Value (POV) before launch or implementation. On an equal note, TON shortens the turn-around time and provides one stop solutions provider, saving its customers enormous time and money and, most importantly, giving them peace of mind.
TON has played a very crucial role in helping its clients build a broad range of dynamic products and solutions since its inception. In one instance, the company collaborated with a local sensor manufacturer to design and invent a Smart Lighting IoT solution, a remote turn-on/off and lighting monitoring system. This system helps duty staff locate and replace broken bulbs, resulting in savings of up to 20 percent of maintenance costs. In addition, the online monitoring of electric power consumption gives duty staff the transparency required to manage and optimize power usage that helps them cut power usage by up to 30 percent.
With just one and a half years into its journey, the company has pulled off many incredible milestones. Currently serving business clients worldwide, the company plans to step into the B2C arena and roll out more innovative products and redefine the future of IoT. TON has received the Most Innovative Knowledge Enterprise – Thailand MIKE Award for 2021. The prestigious accolade is judged by an international expert committee under two criteria: sustainability factors and a variety of innovative performance indicators.