Connecting Anything and Everything - Impact of IoT/IIoT on Business Transformation
By Jeevarathinam Ravikumar, VP Technology & Innovation, Singapore - Lloyd's Register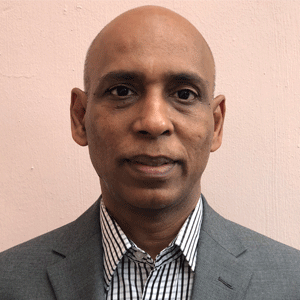 Jeevarathinam Ravikumar, VP Technology & Innovation, Singapore - Lloyd's Register
IoT takes the center stage as part of digital transformation strategies in every board room for accelerating business transformation whether it is for top-line growth through introducing new products/solutions/services' innovation or for improving the bottom line through optimizing the cost with increased operational efficiency. In my definition, Industry 4.0 is all about the convergence of Computing, Connectivity and Cognitivity embedded with added security. Digital is adding intelligence at a faster pace to automation that transforms the way we have been associating with the things & machines so as to meet the demands and requirements of this continually evolving and fast moving world. IoT is digitalizing the world from Home Automation to Industry automation spanning from manufacturing, utilities, transport, smart cities, healthcare, security, logistics, energy, retail, airports, oil&gas, shipping and so on. Most of the market forecasts and trends clearly shows IoT continues to fuel the trillion dollar market growth with tens of billions of devices' connectivity.
IoT is being embraced for automation to enhance the productivity and help accelerating the business growth. Unscheduled maintenance which leads to unscheduled downtime can not only result in increased operational spending but also can end up in major business loss and unforeseen liabilities. Sensing technologies are helping in the automation of manufacturing plants as well as monitoring the health of machines in any environment including those that are remotely located. Connecting the unconnected is made possible by retrofitting with the relevant sensors that help collecting the relevant data. Collected data, in turn, can provide with the insights so as to diagnose the machine health in real-time for proactive intervention resulting in uninterrupted operation. Future manufacturing plants will be fully automated without any human intervention and shall be offered as "Manufacturing as a Service". These services shall be offered online thus enabling shared-manufacturing infrastructure services.
IoT is greatly enhancing the customer experience. An example of this could be a connected retail environment in which check out can be fully automated without queuing up for payment at a till. In a smart city environment, sensor enabled garbage bins can lead to optimize the schedule and routes of the garbage collecting trucks. Future waste management shall comprise of distributed waste recycling edge technologies that shall collect and sort the waste locally. This shall further reduce the green gas emissions by minimizing or even eliminating the conventional waste recycling process.

One of the use cases in which the battery used for the railway crossing is sensor-enabled to prevent theft as well as monitoring the health of the battery. In case of vandalism where a person is trying to lift the battery from its place, alarm is triggered and the route is being traced to locate the thief. In this use case, IoT is not only helping to enable unsupervised security and is also preventing disturbance to the rail traffic and even helping to prevent any accidents. IoT is also used to transform the conventional way of railway signaling by connecting the trains, tracks, and the platforms by being the eyes and ears. Adding artificial intelligence further enhances to accurately guide the trains for smooth flow of traffic without any disruption.

Few highlights below help accelerating the IoT business cases across all industry segments

• Advancements in sensor technologies such as LiDAR to audio/image sensors to instrumentation sensors are offering device management capabilities added with cost-effectiveness and seamless deployment.
• Edge computing that offers edge analytics helps localized and distributed decision making thus reducing the latency and cost of bandwidth.
• Ease of access to Artificial Intelligence libraries add sixth sense to the sensor networks for self-learning and self-healing
• Narrow Band IoT (NB-IoT) connectivity offered by 3GPP and other proprietary technologies such as Sigfox, LoRA are helping in reducing the cost of connectivity with varied options to fit the business models.
• Extended battery life for the edge devices are being made possible with the advancement in low power technologies with ultra-low currents, optimised communication protocols, edge analytics, and low power connectivity.
• Cyber Security is further strengthened at the edge devices with the help of edge computing, device management and advancement in connectivity protocols

IoT business case is strengthening with the solution offering of highly proven smart metering, predictive analytics, remote asset health management, continued healthcare diagnosis with the advent of wearables, customer experience analytics with targeted market campaigns, smart farming, automated inventory updates, logistics tracking, safeguarding autonomous transports, insurance industries and so on.

Use cases for IoT are ever-growing but focusing on creating better business case with a compelling value proposition is important to make the IoT solutions successful. Leveraging the advancement in technologies mentioned above bundled with the open sources can offer low cost - high-value business models. Starting with a pilot production as an entry point to prove the value proposition followed by rapid scaling shall make the IoT end to end solution deployment more attractive. This can help accelerate the multi-trillion-dollar IoT economy.