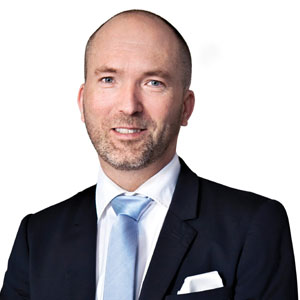 Anders Frummerin, CEO
The Internet of Things (IoT) is slowly and steadily emerging as the new gold standard for hardware connectivity in the business landscape. Although much of the technology driving IoT is still in the early stage of development, its potential to enhance business productivity has already earned it the moniker: 'The Harbinger of Industry 4.0.' Anders Frummerin, CEO of RenGlobe Tech Solutions, however, notes that to fully explore the transformative potential of IoT, a company has to replace all of their antiquated devices with modern IoT-enabled equipment, "which is not quite a budget-friendly proposition for CIOs and COOs since operational expenses continue to grow while budgets shrink." This is one of the key reasons why the adoption of IoT in most companies takes a backseat. Singapore-based RenGlobe Tech Solutions is on a mission to tackle this obstacle by using an unconventional approach. "Instead of implementing completely new IoT devices, we tend to make the old, aged (existing) equipment IoT-ready," says the CEO.
This unique approach of RenGlobe Tech Solutions, according to Frummerin, serves as a testament to the company's drive for effectuating greener business environment. "We are applying IoT on 'things' that were manufactured long before IoT became a watchword in the technology landscape," he adds. Thus, utilizing their flagship product—Climate Control Unit (CCU)— RenGlobe intends to make outdated machines more 'intelligent,' and at the same time, save companies from making a bigger investment to install costlier IoT-enabled devices. To simplify RenGlobe's value proposition, Frummerin says, "We are affixing new brain to an old body."
RenGlobe Tech Solutions' CCU offering is specifically focused on modernizing air conditioning systems saving massive amounts of money, energy and CO2 without any sacrifice of comfort
In fact, through a single 'brain,' RenGlobe connects multiple ACs together so that they function as one system instead of fragmented units.
RenGlobe Tech Solutions' CCU offering is specifically focused on modernizing air conditioning systems that are installed in warehouses, banks, hospitals, hotels, restaurants, and other commercial centers. The leading-edge product upgrades existing air conditioning (AC) systems—of any brand or age—and helps companies significantly reduce the energy usage while driving greater operational productivity. "Our innovative plug-and-play product assists companies to save up to 50 percent of the total energy cost, but we aim to get even further and have a bigger impact on global CO2 emissions," informs Frummerin.
The CCU hardware component is further strengthened by a cloud-based temperature management system. Its web-based dashboard allows clients to control and monitor temperature settings across their organization, be it a single AC unit or several cooling systems spread across different locations. Additionally, real-time monitoring of AC units enables companies to efficiently schedule planned maintenance services. To top that off, the system is also equipped to immediately alert the concerned teams in case there is any malfunction in the AC systems. "And all this is available for a very nominal cost," says Frummerin, highlighting the company's unique value proposition.
Today, RenGlobe Tech Solutions' avant-garde IoT solution has scripted numerous success stories for top-tier companies and organizations in Thailand, the company's test market and first country to get access to the technology.
Motivated by this growth, RenGlobe Tech Solutions is poised to roll out its sophisticated IoT offering to the rest of the world. "We are currently in the final stages of fine-tuning our solution and preparing it for a global release next year," reveals Frummerin. Within a couple of years, RenGlobe Tech Solutions intends to establish a dominant place in all significant business markets across the globe. "Once you recognize what to do, executing it is not a challenge," concludes the CEO.